Crab and shrimp macaroni and cheese can be a delicious and satisfying dish that combines the flavors of seafood and cheese. While it can be a tasty indulgence, it's important to keep in mind that this dish is typically high in calories, fat, and sodium. However, there are some potential health and nutritional benefits to consider:
1. Protein: Both crab and shrimp are excellent sources of lean protein. Protein is essential for various functions in the body, including muscle repair and growth, hormone production, and immune function.
2. Omega-3 fatty acids: Crab and shrimp contain omega-3 fatty acids, which are beneficial for heart health. These healthy fats have been associated with reducing inflammation, improving brain function, and supporting cardiovascular health.
3. Vitamins and minerals: Seafood, including crab and shrimp, is rich in essential vitamins and minerals. They provide important nutrients like vitamin B12, selenium, copper, and zinc, which play vital roles in maintaining overall health and well-being.
4. Low in carbohydrates: If you're following a low-carb diet, crab and shrimp macaroni and cheese can be a suitable option. By replacing the traditional macaroni noodles with low-carb alternatives like cauliflower or zucchini noodles, you can reduce the carbohydrate content and make it more suitable for a low-carb lifestyle.
While these benefits are worth considering, it's essential to note that the overall healthiness of the dish depends on the specific ingredients used and the portion size. If you're looking to make a healthier version of crab and shrimp macaroni and cheese, consider using whole grain or low-carb pasta, opting for reduced-fat cheeses, and adding vegetables to increase the nutritional value while keeping the portion size in moderation.

Crab and Shrimp Macaroni and Cheese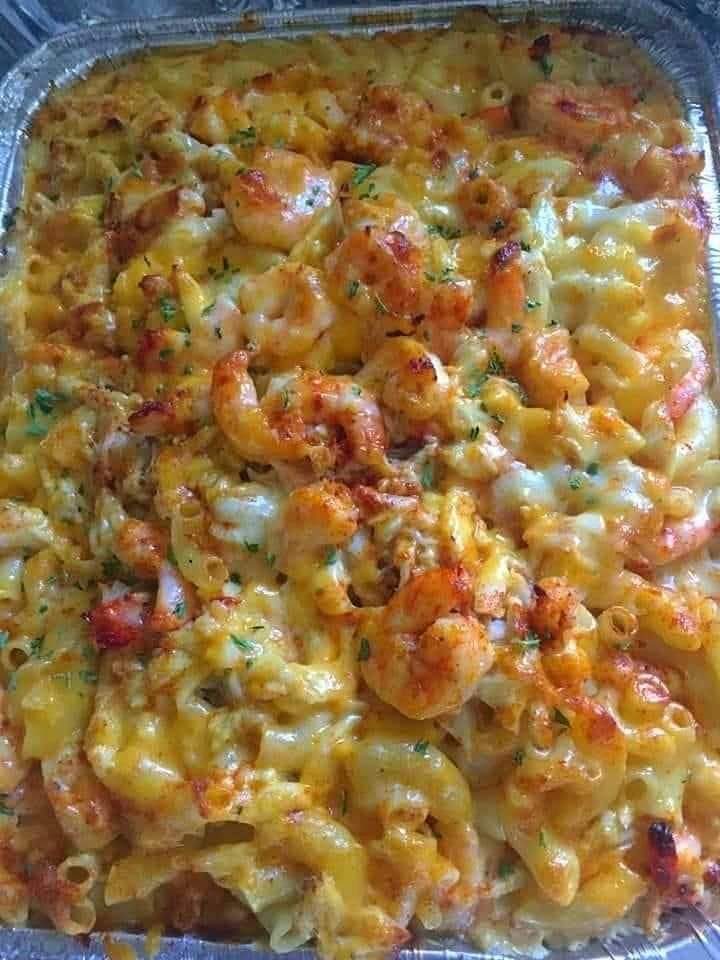 You'll Need:
1 Pound Penne Pasta or Large Elbow Pasta
3 Cups Whole Milk
2 Cups Half & Half
1 Tablespoon Butter
2 Tablespoons Extra Virgin Olive Oil
¼ Cup Onion, diced
1 Tablespoon Fresh Thyme, chopped
1 to 2 Cloves Fresh Garlic, finely minced
3 Level Tablespoons All Purpose Flour
To Taste Kosher Salt
To Taste Black Pepper
To Taste or 1 to 2 Tablespoons Grand Diamond All Purpose Seasoning
To Taste or 2 to 3 Teaspoons Hot Sauce or Tabasco
1 to 2 Teaspoons Liquid Crab Boil, (optional) (careful, it can be spicy but it adds a nice seafood flavor)
3 Cups (about 12 Ounces) Gouda Cheese or Monterey Jack Cheese , grated
3 Cups (about 8 Ounces) Muenster Cheese or Mild Cheddar Cheese, grated
1 Cup (a little less than 4 Ounces) Gruyere Cheese, grated
1 Pound Shrimp, raw, deveined, tail removed, Size 14-16 or 31-40
½ to ¾ Pound Lobster, raw or pre-steamed, chopped into chunks (3 to 4 small lobster tails will do)
½ to ¾ Pound Lump Crab, your choice
Nonstick Cooking Spray, optional
Directions:
Note: Store bought lobster that has been steamed/precooked along with your choice of lump crab meat works great for this recipe.
-Prepare, chop, and dice all of the ingredients first. Grate all of the cheeses and toss together in one large bowl.
-Season the shrimp and lobster. Set aside.
-Preheat oven to 350 degrees.
-In a large stock pot, bring 3 quarts of water to a boil over high heat.
-Season the boiling water, with 3 Tablespoons of salt.
-Cook until just al dente or 2 minutes short of the suggested cooking time on the package.
-Once done, drain the pasta, DO NOT rinse, and toss with 1 or 2 tablespoons of olive oil or vegetable oil to keep it from sticking together while the sauce is being cooked.
-Preheat the milk and half & half together in the microwave, about 3 to 4 minutes.
-Next, in a large skillet melt the butter and olive oil together over medium-high heat. Add the onions and sauté for about 3 to 4 minutes or until soft. Add and stir in the flour, cook for about 2 minutes. (This is a roux. Do not brown it.) Add the chopped garlic and thyme, cook for another minute. Next, while whisking vigorously add all of the milk mixture to the roux. Whisk until the sauce is smooth and has no lumps.
-Once it's smooth, turn the heat down to medium heat. Add the salt, pepper, Grand Diamond All Purpose Seasoning, hot sauce, and optional liquid crab boil to taste.
-Simmer for about 5 to 8 minutes or until the sauce has thickened. Whisk occasionally to keep it from sticking.
-Next, add 3 cups of the grated cheeses to the sauce (reserve 4 cups for layering), turn off the heat and stir just until the cheese melts and the sauce is combined. Stir in the drained pasta.
-In a lightly sprayed 9×13 baking dish, pour in half of the macaroni & cheese. Next, place the first layer of seafood, using half of each.
-Sprinkle 2 cups of the reserved cheeses. Add the next layer of macaroni & cheese, repeat layering of seafood, and top with the final 2 cups of cheese.
-Bake COVERED with aluminum foil at 350 degrees for 30 minutes. Step16: Remove the cover and continue to bake for an additional 10 minutes or just until the cheese is fully melted and the seafood is fully cooked. Serve hot.