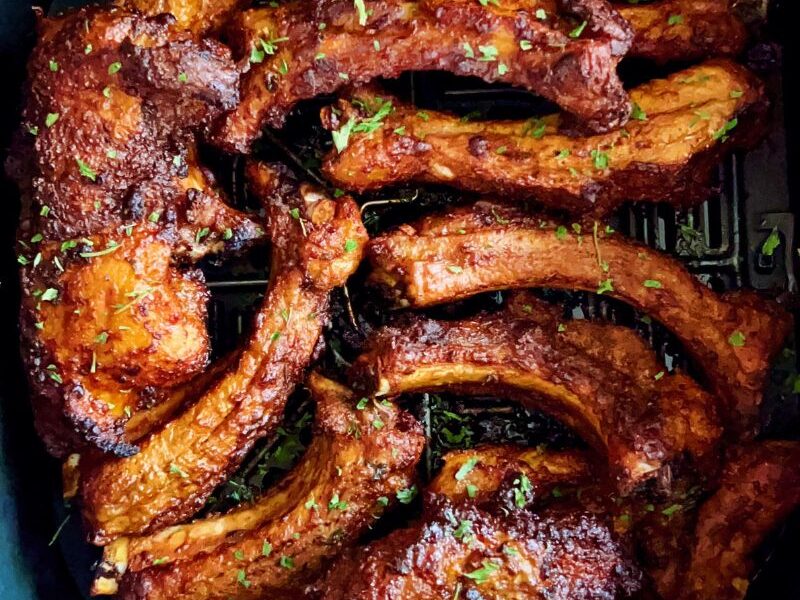 BEST Air Fryer Ribs Without Barbecue Sauce
One of the things I love most about summer is that it's the perfect time for ribs. Say hello to my easy-to-make juicy, tender, tasty, and crispy air fryer ribs! There's no need to spend hours making them; the air fryer makes the crispest pork ribs! Trust me, when you put baby pork ribs in the air fryer, they come out absolutely amazing. And with this recipe, you won't need BBQ sauce to make them full of flavor. (This recipe reminds me of my air fryer steak recipe!)
My husband isn't a fan of BBQ sauce, so I devised a way to make sure my ribs brought all those succulent flavors without it. Whether you're looking for a new way to make ribs or you're not a BBQ sauce fan either, you've got to try these!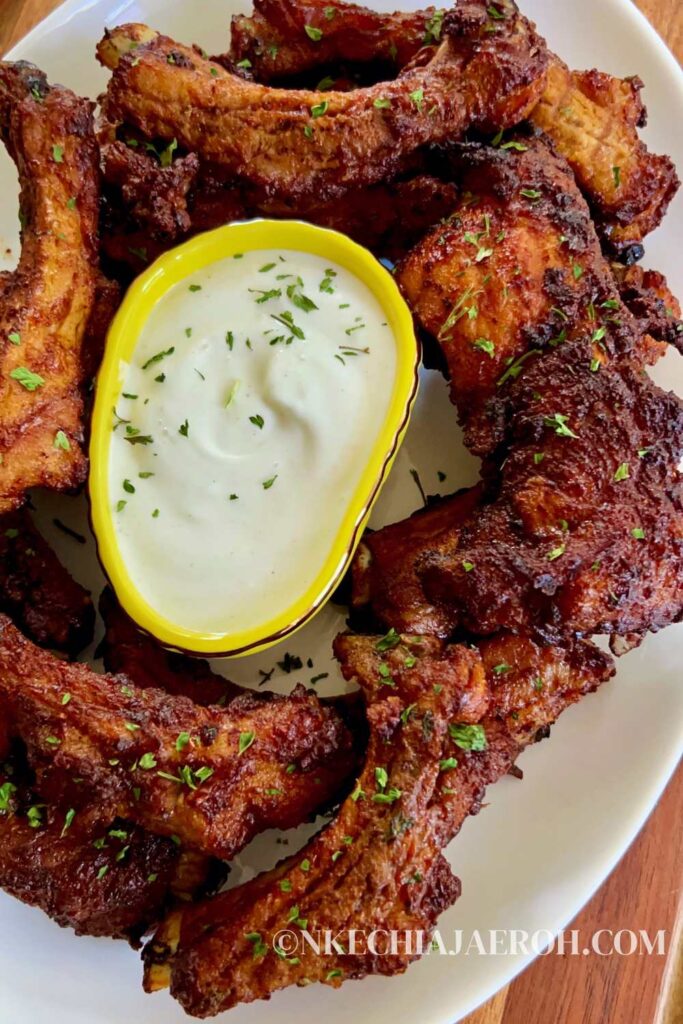 Cooking Your Baby Back Ribs in the Air Fryer
Some people grill ribs or put them in the smoker. Others stick them in the oven or in the slow cooker. Either way, it takes a long time. But not in your air fryer! If you're craving baby back ribs and don't feel like waiting forever to eat them, the air fryer is the answer you've been searching for, and you still get that tender texture in less than an hour! These ribs were so SO good!!! YUM.😋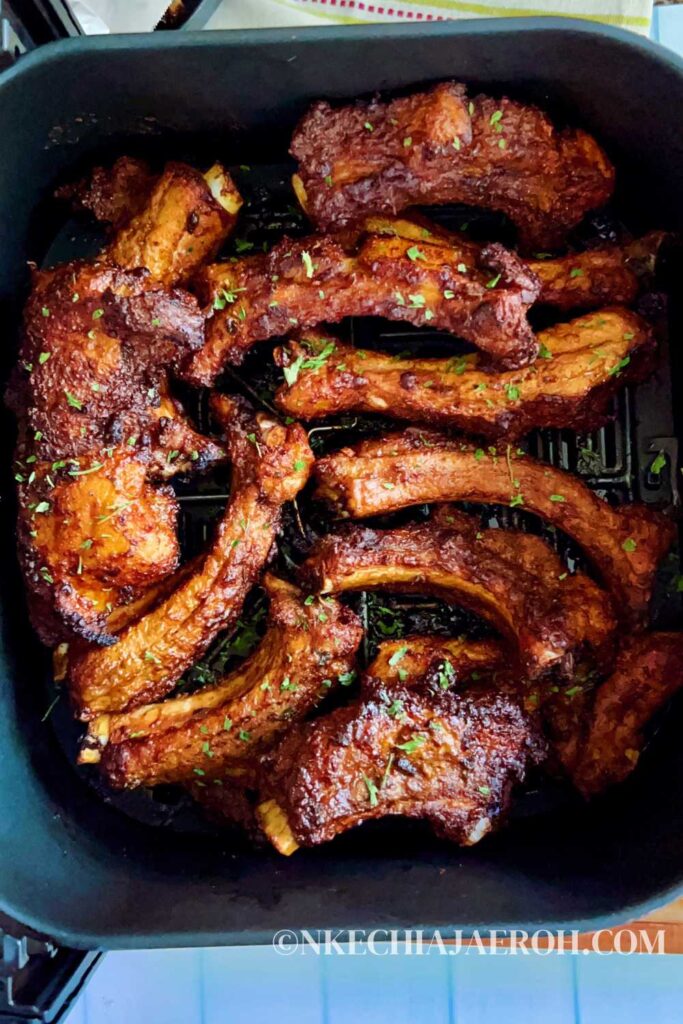 What is the Best Seasoning for Air Fryer Ribs?
I know some of you will say BBQ sauce is the best seasoning for ribs. But wait until you try these; I used a blend of spices that will completely knock your socks off. Check out the list of ingredients below, and you'll see how a few simple seasonings you've probably got on your spice rack can help you create magic!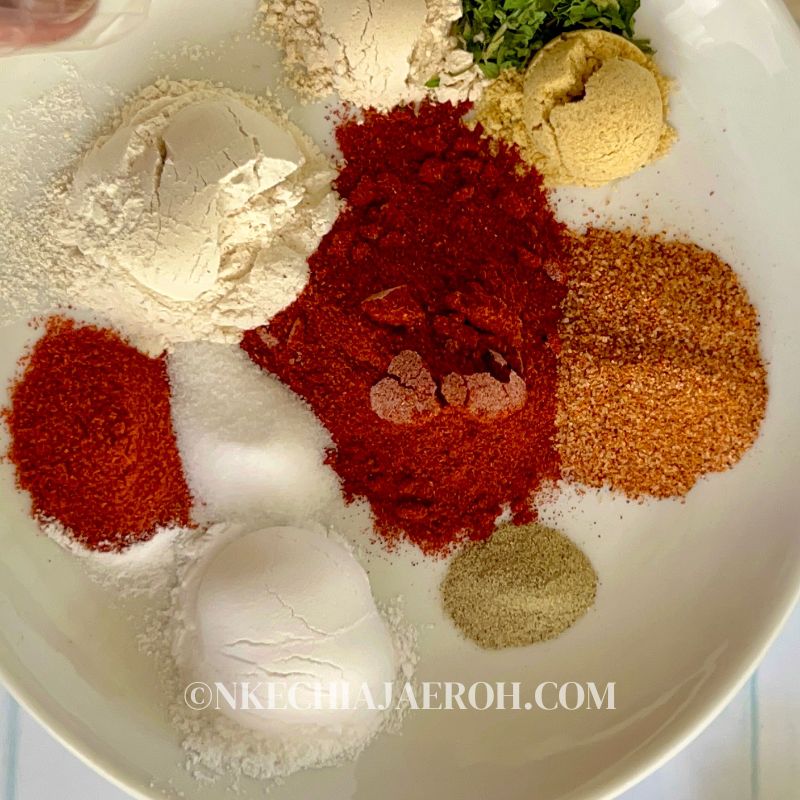 Why You Will Love This Crispy Air Fryer Ribs Recipe
No long cooking time (because of the air fryer).
Juicy and utterly delicious ribs.
Easy for anyone to make any time.
It also works great for feeding friends and family.
The ribs are crispy outside yet tender, with meat falling right off the bone!
No need for barbecue sauce!
This recipe is sugar-free; as you know, most rib recipes (especially those country-style ribs) have brown sugar.
This air fryer rib recipe is perfect for beginner chefs. You need a skill level of zero, lol
Finally, this is a perfect low-carb/keto-friendly baby back pork rib recipe.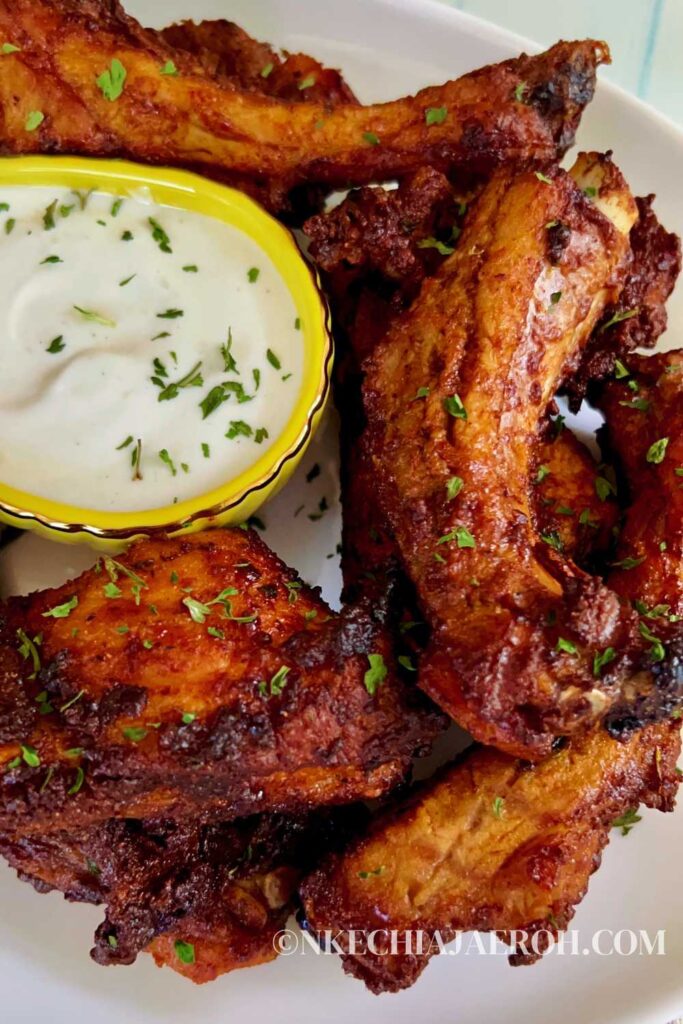 Crispy Air Fryer Ribs Ingredients
Baby back pork ribs
Onions powder
Baking powder (helps to make them nice and crispy)
Paprika
White vinegar
Creole seasoning
Garlic powder
Chili
Black pepper
Salt
Lemon or lime (juiced)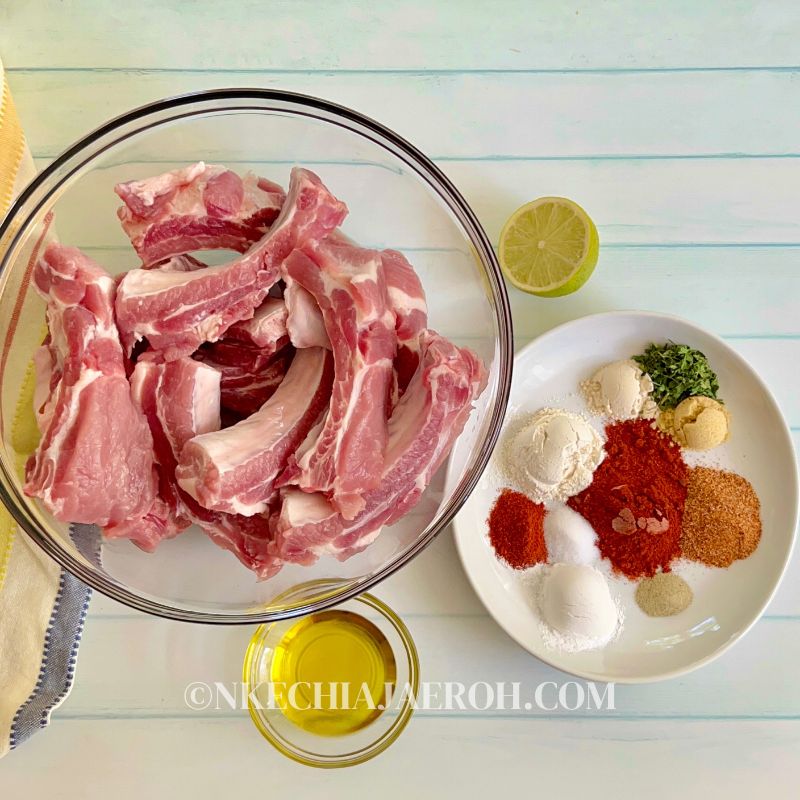 How to Cook Ribs in the Air Fryer (Step-by-Step)
Let me show you how to make these crispy ribs in your air fryer for the best results. Listen, making ribs has never been easier!
Gather Your IngredientsThe best way to start any recipe is by setting everything you need out so you can grab it with ease. Then you can bathe those ribs with half of your lemon or lime, followed by a nice pat dry with paper towels.
Cut Them UpUsing a good knife, cut your ribs into individual pieces so there's a bone in each. You should wind up with a total of 14 small bone-in ribs. Take them and put them into a big bowl.
Season the RibsAdd all your seasonings into the bowl with the ribs. Then, using clean hands or while wearing disposable gloves, make sure every rib is thoroughly covered with this marinade.
Air Fry Your Pork RibsNow you'll put your ribs in the air fryer basket. Make sure you don't overcrowd it or you'll impact the cooking time. The air fryer should be set to 350F for 20 minutes. If your ribs are cut bigger, your cooking time and temperature will change.
Turn HalfwayAfter 10 minutes of cooking, turn the ribs. Keep your eyes on the meat, though. If they are not entirely cooked after 20 minutes, you can add more time or increase the temperature. Also, feel free to brown the meat more to your preference.
Garnish and ServeOnce your ribs are fully cooked, sprinkle on some parsley if you'd like to give it a colorful garnish. Then you can serve these delicious ribs along with your favorite side dishes. And if you don't know what to serve, you can find plenty of sides here such as braised red cabbage, Jollof rice, etc to help you make a complete meal!
Tips and Tricks for Making the Crispy Baby Back Ribs in the Air Fryer
Don't overcrowd the air fryer or it will take longer to cook your ribs. It's better to do batches if you don't have enough room.
Cut your ribs first. Do not try to shove a whole intact rack of baby back ribs in there or it will take much longer to cook them.
Be sure you coat every rib with the marinade to give them intense flavor.
Yes, you can let the marinade sit on the ribs for a little while if you like.
Be careful with salt; I recommend going lightly initially, but always season to your preference. Remember, the Knorr and Creole seasonings have sodium.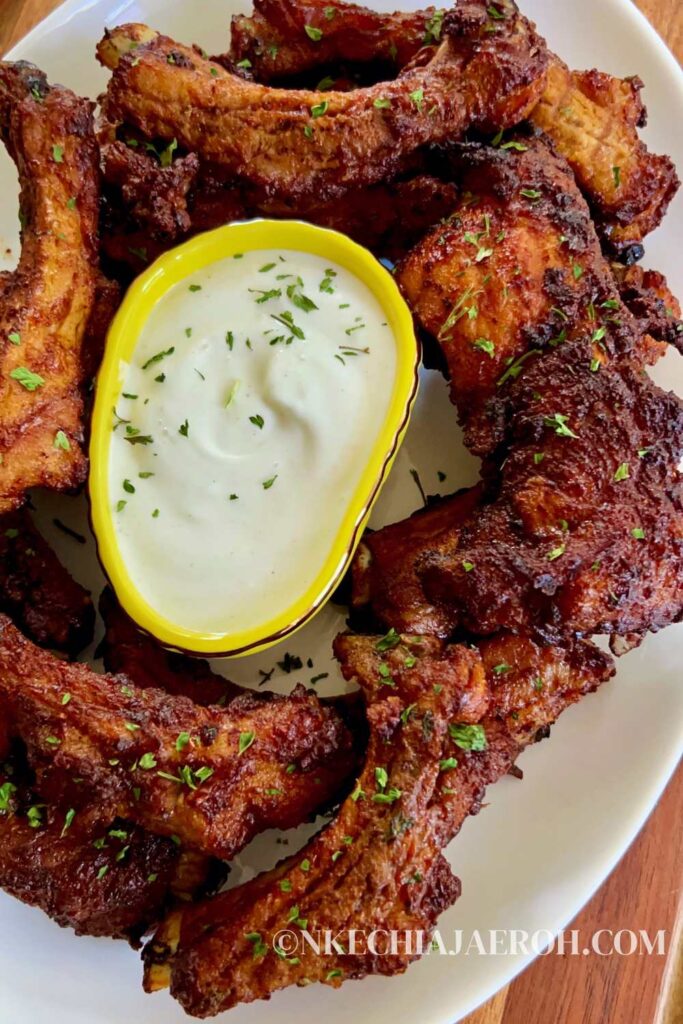 How to Store Leftovers:
While these ribs are so tasty you'll never want to stop eating them, you need to let them cool first before you store them. Airtight containers or freezer bags work best. You can keep them in your fridge for a maximum of 4 days or freeze them for 3 months.
How to Reheat Ribs
Just put your air fryer to 350F and heat them for 5 minutes, then they'll be hot and ready to enjoy! Alternatively, you can reheat the frozen ribs in the microwave for 1-2 minutes.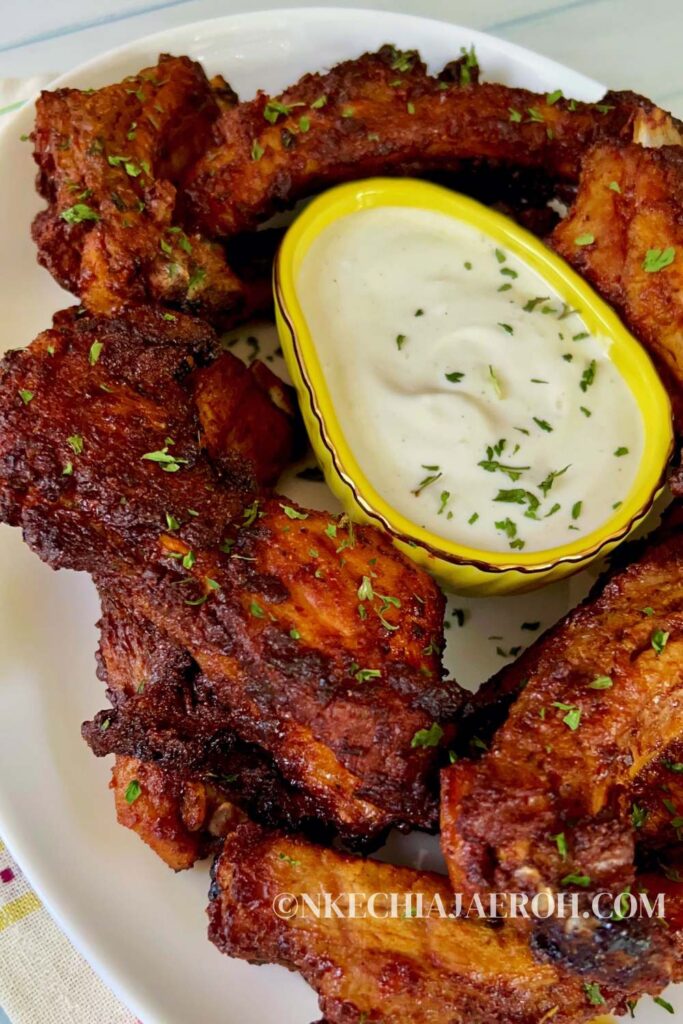 Air Fryer Pork Ribs FAQs
What Temperature Do You Cook Air Fryer Ribs?
Cooking the ribs at 350F is the best temperature, which should help you get them to the proper internal temperature for pork ribs, a solid 145F for safety. If you want them juicier, let that temperature come to about 185F.
How Long Do You Need to Cook Pork Ribs in the Air Fryer?
It will take you a minimum of 20 minutes total, depending on the size of your ribs. If they aren't done by then, add more time in 5-minute increments until they are fully cooked through.
How Do You Tenderize Ribs in an Air Fryer?
In my recipe, I use citrus juice and white vinegar to tenderize the ribs. Along with the seasonings, it all comes together to make the meat simply fall right off the bone.
Can I Freeze Pork Ribs?
Yes, pork ribs are so easy to freeze. You should aim to use your leftovers up by 3 months, though.
Can I Make Pork Ribs Without Barbecue Sauce?
Absolutely! In fact, that's how I created this recipe. My husband doesn't like BBQ sauce and I wanted to make tasty ribs.
How Do I Make Pork Ribs Crispy?
The secret is baking powder for crispy pork ribs. You won't believe it until you try it!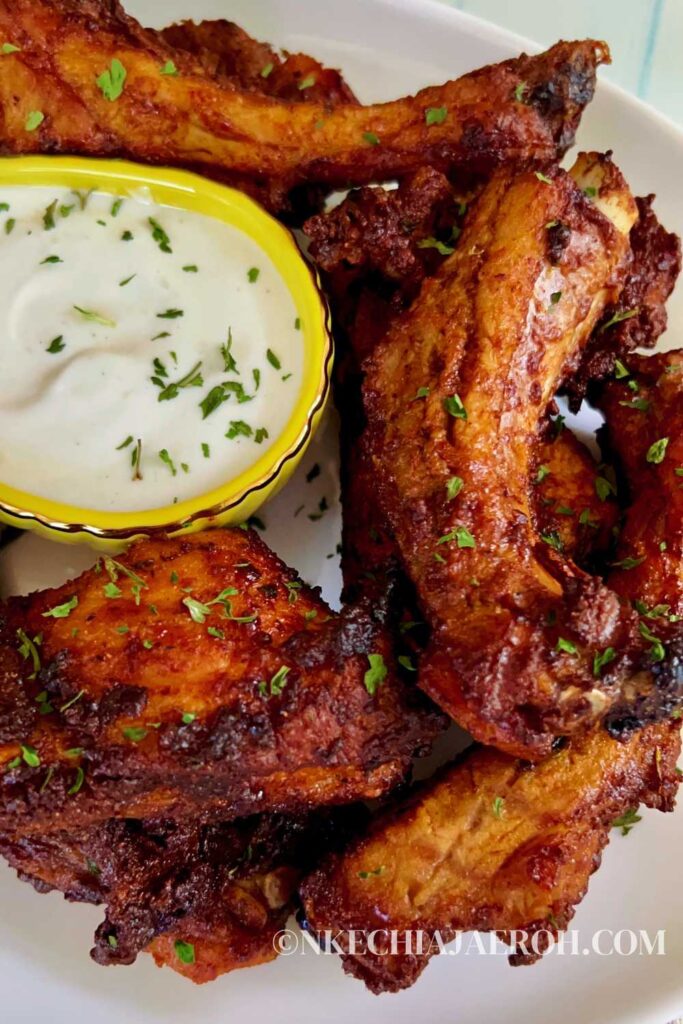 Recipe Variations/Substitutions
Try different spice combinations. You can use any marinade you choose to cook with this method.
You can even cook your ribs in the air fryer with BBQ sauce if you want those flavors another time.
Try adding honey to the ribs.
Add even more spice if you like it hot!